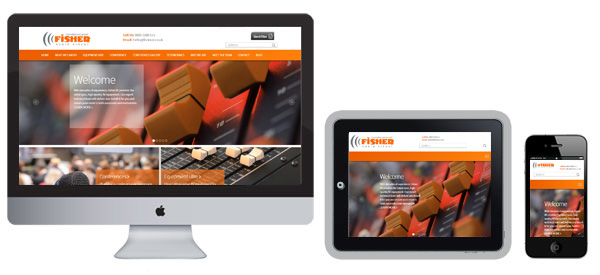 We are excited to announce that after months of planning and development, our new website is live. All of the old features are still here but with a cleaner, more intuitive design.
Features Include:
Responsive Design: Browse the website from your desktop, tablet or mobile device. The layout will resize to fit your screen. This provides a comfortable browsing experience.
Search Facility: In a hurry? No problem. Just type your search term in the box at the top of the site to search our online equipment and services.
Sending Large Files: If you need to send us video footage, artwork or large files, you can do so directly through our We Transfer page. Just click the 'Send Files' button at the top right of the site. No more clogging up your outbox hours before an important event. Send files up to 20GB in size.
Equipment Hire: Planning an event and need to hire AV equipment? Browse our online catalogue. Equipment is organised by category and is easy to locate. Request a quote by completing an enquiry form, or contact a member of the team to discuss your requirements. Not sure exactly what you need? Not a problem. This is where we excel. We will put together a custom package tailored to your requirements. Call us for free on 0800 0180 515.
Conference Gallery: Looking for inspiration? Browse our gallery of recent events and read about the packages we put together. We supply, deliver, install and operate a comprehensive range of audio visual equipment.
Meet Our Team: We're very proud of our team who have decades of experience between them. Get to know them a little better on our Meet The Team page. Read about their skills and experience and the football teams they support.
Who We Are: I bet you didn't know that we can trace our roots back to World War II. Fisher AV started life as a pharmacy in Birkenhead back in the 1940s. Take a look at our timeline and read about our past and present, and our future aspirations. View photos of Fisher AV then and now.
Testimonials: We have achieved a lot over the last seven decades but don't take our word for it. Our Testimonials page is full to the brim of thank you notes and feedback from happy clients. Read what they say about us.
This is just a flavour of our website and there's more to come. We routinely sell our old hire stock to make way for the latest spec equipment. We have just completed a photo shoot and new equipment will be added to the site over the coming weeks. We hope you enjoy browsing.
If you can't find what you're looking for or need some help, contact us on 0800 0180 515. Our team is ready to take your call.