WHAT'S IN THE GUIDE?
Your first hybrid event can be a daunting task. Avoid the common pitfalls with our free and comprehensive guide to hybrid & virtual events.
Selecting and preparing your venue

Keeping your audience connected and engaged

Minimising mistakes and avoiding downtime

The technology required for hybrid & virtual events
WHAT ARE HYBRID & VIRTUAL EVENTS?
Hybrid and virtual events are the new revolution of the events' industry. Whilst their conception was birthed from the result of a health crisis, it has given way to the immediate technological progression of how events are performed, and delivered.
The basic meaning of "Hybrid Event" is not so far gone from how regular events are handled. The only inclusion from the traditional event, is that a part of the planning involves an equal share of "in-person" and "virtual", giving people access to the event from an online entry point.
WHY GO HYBRID OR VIRTUAL?
There's a multitude of reasons why a hybrid event would be favoured over a virtual or physical event:
Go international – allow anyone to take part, anywhere in the world

Additional digital marketing opportunities

Increase your sponsorship value

Reduce on-site participation due to safety concerns
KEEPING YOUR AUDIENCE CONNECTED:
There are many factors to consider when introducing live streaming to your event. Broadband speed, equipment and local restrictions all need to be factored into your planning. Whilst you can't control each participant's bandwidth, you do have some power over how data heavy your broadcast is. A few simple yet critical precautions can be put in place to help create a professional and smooth experience.
USE WIRED CONNECTIONS:
Where possible, wired connections must always be used in place of wireless. A hard-wired ethernet connection offers more stability, security and speed than WiFi.
REDUCED VIDEO RESOLUTION:
In the event of the dreaded buffering / loading wheel, consider reducing the quality of your stream from 1080p to 720p. By doing so, you can reduce your bandwidth significantly, without any noticeable reduction in quality.
DEDICATED EVENT NETWORK:
Using a dedicated and secure network for your event will greatly improve your live stream's performance. Public or working business connections are not recommended.
REDUNDANCY NETWORKS:
If available, a redundancy or backup network can be a godsend when experiencing connectivity issues. Have a technician on hand to switch networks, or work with a specialist to automate this process.
CREATING AN EXPERIENCE TO REMEMBER:
As a result of the pandemic
, video meetings have become a regular part of day-to-day life for many of us, so its important that the digital aspect of your hybrid or virtual event is exceptional. Dazzle your audience with a professional broadcast-quality experience, not just another Zoom or Microsoft Teams meeting.
By introducing elements such as graphics, pre-recordings and interactive experiences, you'll not only meet your event's goals, you'll also bolster your company's brand reputation – being known for producing high-quality content and presentations.
vMix – Gives you control of multiple broadcasts, recordings and assets

Accelevents – A popular specialised software for hybrid events

OBS – Open Broadcasting Software, allows you to fine tune your output

Wirecast – Intuitive user interface, made for ease of use

Youtube – Has a function you can use to livestream and automates the best settings.
VENUE / STUDIO VISUALS:

Create professional,
immersive
and on-brand experiences with green screens, video walls and interactive backdrops.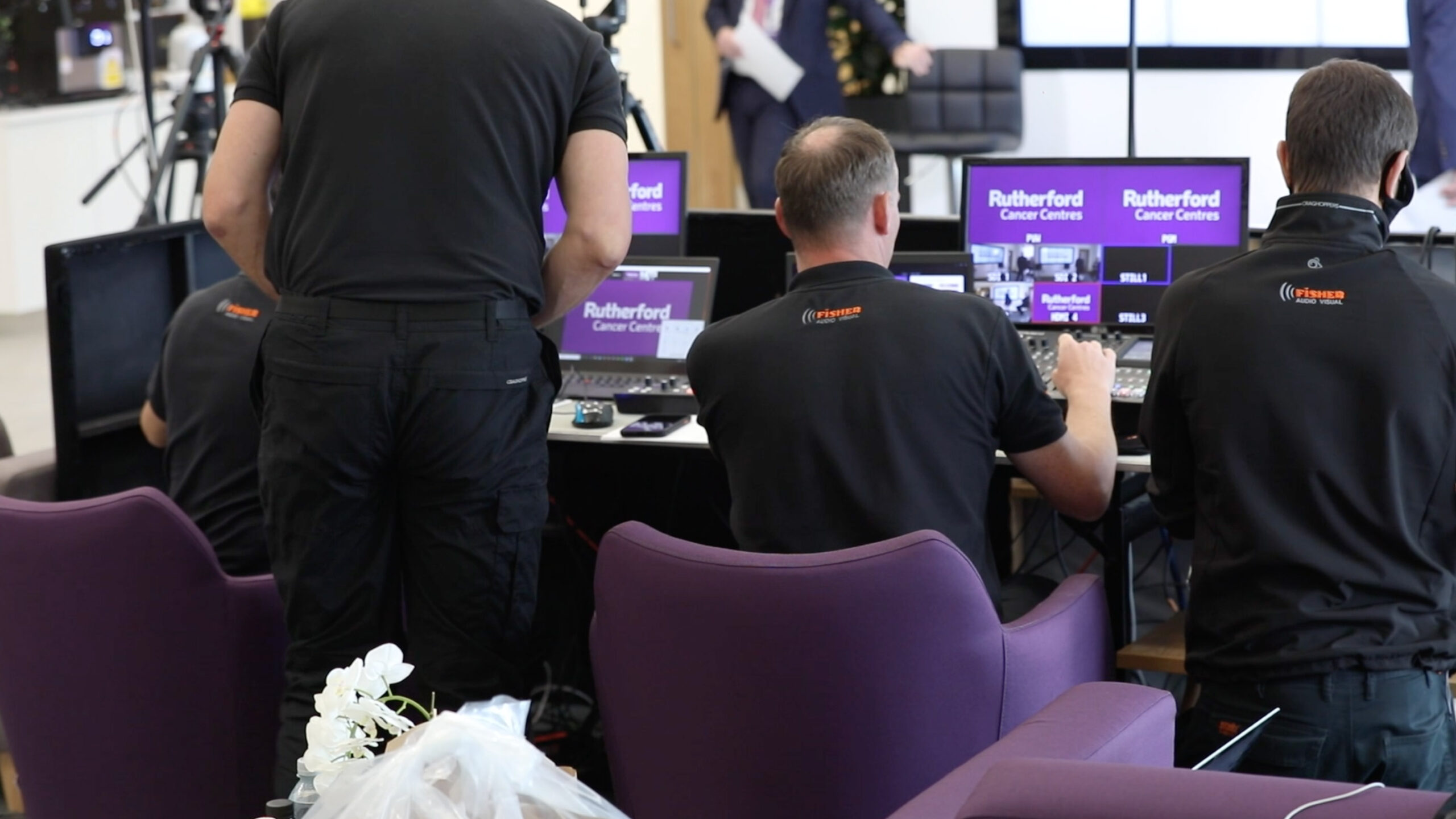 MINIMSING LIVE MISTAKES & DOWNTIME:
One of the great benefits of going virtual or hybrid is having the option to pre-record segments of your event beforehand. Known in the broadcast business as "as live", this handy advantage means you can reduce the possibility of live mistakes at many different intervals.
By pre-recording as much as possible, you can adjust for any errors you may come across, as well as making sure there's no variance in the human presentation. It will be exactly as you've directed it. As long as the host(s) delivers a consistent performance, it can blend seamlessly with your live segments, making sure the event retains its quality.
INTERNATIONAL TIME ZONES:
One of the more natural issues that arises with planning events will always be time zones. The great thing about making your event a hybrid, is that you can use technology to accommodate for the shortcomings local event would have.
If you've taken the recording aspect into account, as mentioned earlier, you will most likely have a copy of the event to upload online. Depending on the event, and the context, it might be a better option to offer your event "on-demand" so participants in all areas can access your recordings at the comfort of their own time.
AUDIO VISUAL EQUIPMENT
AV equipment selection is an essential part of your planning. Hardware is incredibly important, as quality can equate to the public perceived level of quality of your business.
For example, low quality microphones may have been acceptable when presenting to a large audience in person, but the exact sound transmitted to your digital participants will only be as good as the microphone itself. Make sure to invest in high-quality audio visual equipment, as events now take on a multi-target context.
To find out more about what we can do for your event, visit us at our new office or contact us by filling out the form.