We were delighted to be involved in the Liverpool Hoteliers Association's 1st Annual Charity Awards Dinner last week on 20th October at the Hilton Hotel. Fisher AV provided all of the AV equipment on the evening and Bryan Fisher even got the chance to present the award for Sales Person of the Year – of which the proud winner was Natalie Weston, Sales Manager from the Marriott Hotel.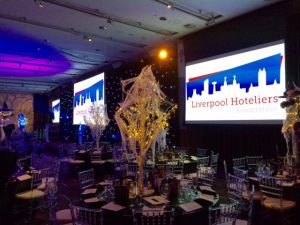 The Liverpool Hoteliers Association is a non-profit organisation run by hoteliers for hoteliers. They are dedicated to championing the vibrant city of Liverpool. Their mission is to be the voice of the Liverpool Hotel Industry and be the first point of call and authority body for anyone, wishing to engage with the Hospitality Sector.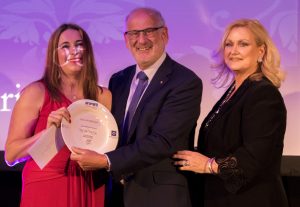 The evening was about the unsung and hardworking heroes who work tirelessly in this tough yet exciting industry and gave the Liverpool Hoteliers Association the opportunity to recognise and reward their teams in front of their peers and hospitality experts. Although this was the first, the now annual event will allow Hoteliers to let their hair down whilst raising valuable funds for charity. This year's chosen charities were Hospitality Action and Woodlands Hospice – £35k was raised on the night!!