We were extremely proud to have the pleasure of being one of the Sponsors of the Stadium Experience Awards at Liverpool Football Club on Thursday 1st June.
Stadium Experience is a collaboration of over 50 football and rugby clubs, with the aim to help improve and promote the prestigious sporting conference, meeting and event facilities available in the UK & Ireland.
The Stadium Events & Hospitality Awards recognise the efforts and dedication shown by the catering, conference and events teams at every football and rugby stadium across the UK and Ireland. This year's event was held in the new prestigious Main Stand at Anfield, home of Liverpool Football Club.
The Liverpool and Sefton Chamber of Commerce have published an article about us in the news section of their website which gives more information about the evening and its success along with some testimonials from Stadium Experience and Liverpool FC. Follow this link to take a look.
Over the years, we have worked alongside and supported a large number of events at Liverpool Football Club.  With the help of their amazing Events and Sales Teams we have created some fantastic and memorable events.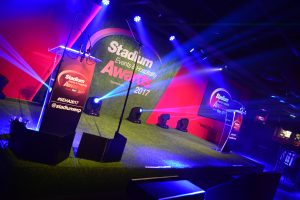 Since our expansion into Merseyside with our new Liverpool Office, we are continuing to secure a large client base in the area and are now able to support even more North West clients to achieve their Conference and Event goals. We look forward to hearing from you if you are based in the area and would like to discuss your upcoming audio visual requirements – call 0151 482 8700 or email [email protected].